Das Europäische Solidaritätskorps (ESK) ist ein Freiwilligendienst im Rahmen von ERASMUS+. Er bietet jungen Menschen zwischen 18 und 30 Jahren die Möglichkeit ins europäische Ausland zu gehen. Die/der Freiwillige hat die Möglichkeit in sozialen oder kulturellen Einrichtungen zu arbeiten. Häufig finden sich Angebote zum Beispiel in Kindergärten und Jugendzentren, aber auch in Museen oder Umweltorganisationen. In den Projekten, die eine Laufzeit zwischen 2 und 12 Monaten haben, lernt die/der Freiwillige eine andere Kultur intensiv kennen. Auch das Lernen einer neuen Sprache und die Verbesserung der Englischkenntnisse gehören zu den positiven Auswirkungen. ERASMUS+ übernimmt dabei die Kosten.
In den vergangenen Jahren haben wir 13 Freiwillige aufgenommen und eine Vielzahl nach ganz Europa vermittelt.
Wenn du Fragen hast, kannst du dich gern an uns wenden und beraten lassen: eastwesteastnetwork@gmail.com, paul.gaffron@gmx.de.
Weitere Infos findest du auch unter Europäisches Solidaritätskorps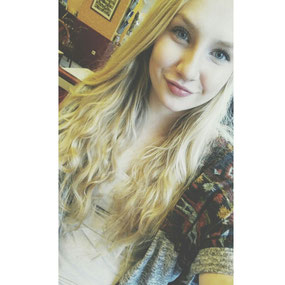 European Solidarity Corps in Estland 06.03.19-06.03.20
Die Frage nach dem, was ich nach der Schule machen soll, hat mich immer wieder beschäftigt, als es auf das Ende zuging. Mir wurde schnell klar, dass ich gerne ein "Gap Year" einlegen möchte, indem ich mir Zeit nur für mich und meine persönliche Entwicklung
nehmen möchte. Als eine Möglichkeit hat sich dann, nach Absprache die Initiative von der Europäischen Union, der ESK, ergeben. Nach weiteren Überlegungen wurde mir dann klar, dass ich unbedingt mit unserer Partnerorganisation Youth Club Active ein Jahr in Estland als deren Freiwillige verbringen möchte.
So ging es dann im März 2019 nach weiteren organisatorischen Angelegenheiten los nach Estland. Ein Jahr auf sich selbst gestellt sein, darunter konnte ich mir nur immer vorstellen wie es sein würde, doch als es dann Realität wurde, ist mir klar geworden, dass dies sowohl positive als auch negative Seiten hat. Auch was das Leben als Freiwillige betrifft. Ich musste mich vielen persönlichen Herausforderungen, wie Sprachbarrieren, verschiedenen Mentalitäten, neuen Verantwortungen usw. stellen.
Dies war mit Sicherheit nicht immer so einfach zu bewältigen, man verlässt schließlich seine gewohnte Komfort-Zone und tritt in eine fremde Umgebung ein, mit vielen neuen Situationen/Menschen. 
Zurückblickend ist es immer wieder faszinierend, wie lang aber gleichzeitig kurz sich ein Jahr anfühlen kann bzw. es ich für mich angefühlt hat. Ich bin unglaublich dankbar für diese Möglichkeit, die ganzen Erlebnisse und vor allem Erfahrungen, die ich machen durfte und immer in meinem Herzen bleiben werden.
ERFAHRUNGEN eines der Wörter, die ich mit dieser Zeit verbinde, da ich allein schon
durch meine sehr variierenden Aufgaben verschieden Erfahrungen bekommen habe. Meine Aufgaben waren abhängig von der jeweiligen Season, so war ich bis zum Sommer eher in der Hobbyschule tätig und verantwortlich für meinen eigenen Deutsch Workshop.
In den Sommermonaten Juni, Juli und August war ich viel außerhalb von Tallinn, sei es aufgrund von persönlichen Reisen nach Litauen, Lettland, oder Projekt gebundenen nach Zypern oder ins Suburban Camp in Tammispea, einem Territorium, welches von meiner Organisation und deren Partnerorganisationen als ein Jugendcamp in einem Wald innerhalb eines Nationalparks dient. Nach dem Sommer habe ich dann unter anderem noch in einem Kindergarten für Kinder mit Special Needs gearbeitet und mein eigenes Erasmus+, ein Youth Exchange, verwirklicht. In meiner gesamten Zeit habe ich Freundschaften und Kontakte mit vielen besonderen Menschen geschlossen.
Dennoch gibt es auch schwierigere Momente, in denen ich mich emotional nicht immer so gut gefühlt habe. Es kann bzw. ist manchmal schwierig/ungewohnt mit anderen Mentalitäten zusammen zu arbeiten bzw. Zeit zu verbringen, sei es durch Missverständnisse oder durch unterschiedliche Ansichten. Doch sind es gerade die "schlechten/schwierigen" Momente, die mich unglaublich viel gelehrt haben und durch die ich als Mensch gewachsen bin.
Ich kann abschließend es nur jedem raten, der diese oder ähnliche Möglichkeiten hat, diese auch wahrzunehmen. Es sind Dinge, die man lernt (über sich selbst, über interkulturelles Interagieren oder über Unabhängigkeit und das Erwachsen werden), die einem im weiteren Leben helfen können.
Ein Artikel von: Sophia Kraus, Freiwillige bei der NGO Youth Club Active in Estland
06.03.19-06.03.20
«Kids can be the best teachers»
Chrisovalantou Rountou from Florina in Nothern Greece moved to Germany for a year to spent her European voluntary service (ESC) in a Kindergarten. In Hagen, a small city in North Rhine-Westphalia she felt home soon – not only because of the cities' historical connection to Greece, but also because of the children and her co-workers in the German-Greek Kita "Elaphi".
The day when I left Greece I felt alone and at the same time excited – it was like everything happened by mistake, so it got even more exciting. Why? In July 2018 I just had graduated from the Department of early childhood education. Having no idea for the next step I saw a Facebook post about volunteering in Hagen. As being always interested in Germany I did some research. They were asking for a volunteer to work in a Greek-German Kindergarten.
So I sent my application. Then a member of the Organisation East West East e.V. called me and asked if I still was interested. After some discussions and an interview, we agreed that I could make it. We stayed in touch in order to help me preparing for this experience.
On January 20th 2019 I took my flight to Germany. One of my mentors was waiting for me. As it was my third time in Germany, the feelings weren't too strange, but my first day was exhausting as we had to manage some issues about the house, paper works and my new phone number. In the evening I was invited for dinner with the members of the organisation.
Greek influences in Hagen

My mentors were really helpful as they accompanied me to any office. So my first contact with the locals was really pleasant – and every time I heard Greek on the streets in Hagen, it felt really nice. It was a surprising experience to me, that in a small city such as Hagen there were many Greek restaurants and takeaways.
Later I met my new collegues and I got to know the Kindergarten, where I would work for a year. My first visit and impressions were very pleasant. It is a really nice Kindergarten, friendly to the environment with comfort and a big, beautiful playground. Walking around the groups and meeting the kids I felt very welcomed to the place, so that I was looking forward to start working there.
Of course in the beginning it was difficult to remember so many new names, especially when they're foreign. I didnt really know a lot about communicating with the German kids in the beginning. Thanks to the older children we found a way to interact and I liked that we were learning from each other. That the kids were so supportive made me trying more and more – sometimes kids can be the best teachers.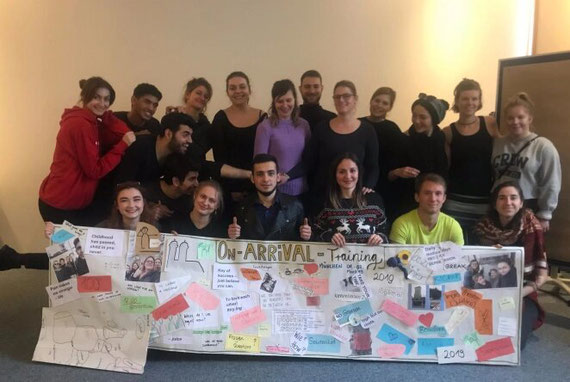 Understanding how Kindergarten in Germany works

It took me few weeks till I understood the way how Kindergarten in Germany works and how the teachers interact with the kids. Every day was a new lesson for me. As well, the weather didn't really help at the beginning to be more active as it was cold and snowing. But this was a chance to spend more time with my housemates and meet them. We also had time to make our house fit to our preferations.
For many people a Greek in Germany isn't something really surprising – the other way around often it is something special. Something I still remember is when I met a Greek old woman in a bus in Hagen and I told her that I came alone to Germany she couldn't believe it. She continued asking from whom I was hosted, because it was strange to her.
Getting used to the life in Germany

As the time passed I started to feel more confident when I was with the kids and we could do more things together: We started with some short activities in the atelier and later we were doing mobility activities with music. Then we continued with activities in the gym and when the weather was good we were playing outside. Sometimes also I was doing the morning round. We also did some educational trips in a zoo and some parks.
The aim of the school was to let the children play what they like and not what the teacher decided. They wanted them to have their own opinion and feel confident – by always following the rules and respecting the others. Except the activities I also had to support the team, for example during breakfast and lunch time to distribute food and keep the kids quiet. When I was in the group with the babies I supported by changing pampers. I was asked also to help organising small fests and of course the summer fest before the year was over.
What stays

After this year I felt really excited about the job and the Kindergarten – their way made me love it. It is important for me when you succed to bring all the kids around you by carrying out activities that are based an their interests. For me, the biggest asset was that I had the support from my collegues, the kids and their parents: it made me be more active and try more and more. And of course my mentors who were there to help in any difficult case were important to me.
As well I supported East West East with some actions and I met all the other volunteers who run the organisation. I also took part in some projects. By this I had the chance to experience new challenges, meet people and interact on topics with current importance. In my free time I decided to travel to see new and beautiful places. There I met people who became really good friends. As well in Hagen I met people, most of them Greek, with whom I had the chance to compare the life in Germany to Greece! It was a sad thing hearing and talking about all the young people who are leaving Greece to find a better job in a new place.
Something funny that really impressed me in Germany was the accuracy in public transport: I could plan my trips with exact times! As the pandemic started close to the end of my voluntary service I had to cancel some of my plans, but for sure living and working abroad in a job I studied made me grow up and see things from another point of view. I had to take care of myself and be responsible, so I got more confident and strong.
For me it is an experience everyone should live once in a lifetime. Looking back, I am proud and happy that I made it. In my opinion by working voluntarily you can better understand the needs of a job. I am sure, I will always remember this year as one of the best in my life – and of course the little kids as the first students I had.
Text and pictures: Chrisovalantou Rountou
https://agorayouth.com/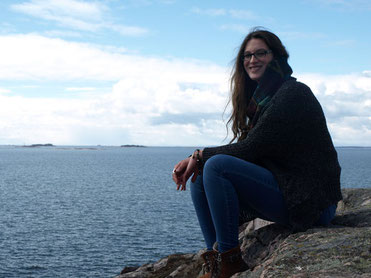 Ich bin Kira und habe 2017 meinen Freiwilligendienst in Tallinn, Estland gemacht. Ich habe in einer Jugendorganisation gearbeitet und von Kindergarten, Grundschulalter bis hin zu jungen Erwachsenen mit allen Altersgruppen zusammengearbeitet. So habe ich z.B. Deutsch-Workshops gegeben, mit Jugendlichen Musik gemacht und in den Sommercamps gearbeitet. Ich habe unglaublich viele Erfahrungen sammeln können, mich persönlich weiterentwickelt, fließend Englisch sprechen und schreiben gelernt und Freunde gewonnen, die sehr wichtig in meinem Leben geworden sind. Wenn ihr mehr über meine Erlebnisse wissen wollt, folgt dem untenstehenden Link. 
http://clubactive.eu/evs-experience/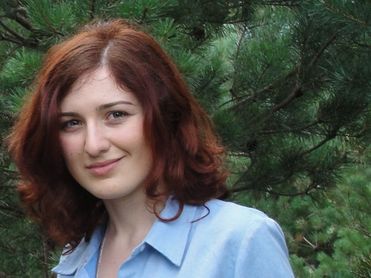 I'm Medea from Georgia and I did my EVS at eSw in Germany where I worked as a youth worker for the East West East Network in 2015-2016. My experience was very unique in many ways and it contributed to my personal growth as well as gaining knowledge about project writing and management.  We did quite a few projects concerning human rights, migrant crisis and few local and international projects in the frame of  the "No Hate Speech" campaign. It was a valuable experience, considering how much I learnt about project management and communication with partner organizations all over Europe. Another significant outcome of my EVS was learning a lot about youth work in general while working with the EWE group. Apart from my voluntary experience, I faced many challenges as a foreigner, living in Germany which was another contribution to my personal growth. To summarize my EVS experience in a sentence: "It could not have been more rewarding, compelling and life-changing".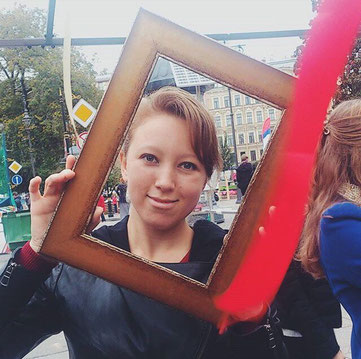 Ich heiße Dasha und ich bin eine große Abenteurerin, die niemals an einer Stelle bleiben kann. Ich bin in einer kleinen Stadt in Sibirien geboren. Jeden Sommer hat meine Familie den Urlaub am Baikalsee, der "Perle der Welt" verbracht. Seitdem ich 16 bin zieht es mich weg. Die letzten fünf Jahre lebte ich in St. Petersburg. Ich habe da sehr nützliche Erfahrung gemacht, musste aber viel im Büro arbeiten. Alles war üblich bis dahin, aber ich fühlte mich wie ein Vogel ohne Flügel. Dann kam die Entscheidung, etwas zu verändern. Ich habe mir und meinen Freunden versprochen, im Januar 2018 das neue Leben zu beginnen. Aber wie… Ich wusste es nicht.
Diese Geschichte fing im Oktober 2017 an.
Ich habe ein EFD-Programm in Deutschland für potentielle Freiwillige gefunden. Hier gab es alle wichtigen Punkte für mich: die Arbeit mit jungen Leuten auf nationaler und internationaler Ebene, die darin besteht, Verständnis und Lösungen für aktuelle soziale und kulturelle Probleme zu finden. Das würde sehr interessant sein, als auch die Vorbereitung und Durchführung verschiedener Projekte, bezüglich der Öffentlichkeitsarbeit. Das ist meine professionelle Tätigkeit. Das dritte Argument dafür war die Region Hagen und Dortmund. Ich lebte schon in Dortmund im Rahmen eines Austauschstudiums. Am nächsten Tag schickte ich meine Bewerbung ab und begann zu warten…
Nach einigen E-mails und einem Skype-Gespräch bekam ich endlich die Bestätigung. Ich hatte Gefühl, dass es mein Leben verändern wird.
Seit Januar 2018 bin ich hier in Deutschland. In den ersten zwei Monaten haben wir mit unserer deutschen Gruppe schon zwei wichtige Projekttage im Rahmen des Themas "Nationalismus und Patriotismus" durchgeführt, in einer Messe das Projekt des Europäischen Solidaritätskorps (ESK) präsentiert, mit Schülern aus dem Christian-Rohlfs-Gymnasium in Hagen innerhalb einer Woche ein Theaterstück vorbereitet, einen Abgeordneten und Vertreter von der Stadt Hagen kennengelernt und einige Anträge für künftige Projekte gestellt. Außerdem habe ich auch den einwöchigen EFD-Trainingskurs in Hamburg besucht und erwarte jetzt weitere interessante "Dienstreisen" und Begegnungen.
Nebenbei besuche ich die deutschen Sprachkurse und lerne neue Leute kennen. Insgesamt genieße ich jeden Tag und mein heutiges Leben. Es ist echt eine außergewöhnliche Möglichkeit, aus der Komfortzone zu gehen und Fremdsprachen ohne Grenzen und Angst zu sprechen. Ich habe die Zeit, mich weiter zu entwickeln und zu reisen. Jetzt habe ich die Gelegenheit mich auf die Selbstbildung zu konzentrieren.
Was weiter wird, weiß ich nicht. Aber momentan kenne ich als einziges – jeder Mensch bekommt schließlich das, was er will, und alles ist in unseren Händen!